Hello and welcome to our site!

I'm John Ferguson and my wife, Lori, live in Beaufort, South Carolina.  We have been married for 24 years and were high school sweethearts!  Over the 24 years of our marriage we have owned several businesses and have seen much success and failure along with the various struggles associated with business ownership.  We have sought to develop an online internet success community as a network to assist other business men and women who are interested in taking the guess work out of developing an online presence and increase exposure on the internet.
I began my career in the military when I joined the United States Marine Corp right out of high school.  While in the Marines I was able to take college in the evening at Campbell University up until I deployed overseas as part of Desert Storm. After returning stateside, Lori and I got married and we began our first business in network marketing.  We learned the hard-way before the internet as we know it today.  It was a difficult road with cold calling, home meetings, and striking up conversations with complete strangers… all the things that have tarnished the industry to this day.  We learned how to quickly sponsor people, but we found that we had a revolving door, as fast as we could put them in, others were dropping out.  It was like trying to pour water into a bucket with holes in the bottom.  During this time I continued to deploy on several other missions overseas while Lori was forced to raise our children as a single parent.  I became disillusioned with the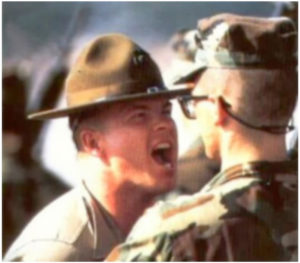 whole network marking industry and after receiving orders to become a Marine Drill Instructor on Parris Island, I decided to leave the network marketing industry and just focus on my career in the military.  Unfortunately, the demands of the military and the long hours on the Drill field took its toll on our family.  I was tired of watching my children grow up in pictures and my children needed their father in their lives. Lori and I decided that 10 years of service was long enough and I was honorably discharged from the Marines in 1998.
What next… I never lost my passion as an entrepreneur and decided that a more traditional localized business was the way to go.  After many hiccups, obstacles and challenges and by the grace of God, Lori and I were able to purchase a well known franchise.  We understood from our network marketing experience that to be successful, one needs to follow a proven system for success, so at 27 years old, we managed to become a franchisee with GOLD'S GYM, a world leader in the health and fitness industry. We quickly learned that for us to survive in the traditional business world that we needed to educate ourselves about marketing, both online and offline.
Though we found a level of success in the fitness industry.  There was always new competition coming and going.  We developed many friendships with other business owners who were extremely successful with home based businesses and were producing twice the profit with not even a fraction of the overhead.  I was spending in excess of $40,000 a month in operating costs and they were spending less than $1000 and were stress free!
We began looking into a better way of doing business; so we branched out into the world of home based businesses and developed a highly successful tee shirt screen printing company at www.barefootprints.net, which we still own and operate to this day.
We did achieve a level of success in the business world, yet we both realized two essential truths. First, that there was a cap as to how much we could really make in those businesses and second, that they would always have control over our time.  We sold our franchise and began to re-shift our focus as we re-examined the network marketing community as a way to remove the upper limit to our income and allow us to create multiple streams of income with minimal effort.
We began scouring the network marketing industry looking for the perfect business to be a part of.  We discovered that there are no perfect businesses, products, teams or sponsors. We simply found a reputable company with a solid track record and excellent products that we could believe in.  We then rolled our sleeves up and went to work.  This time with a new vision and measurement for success..  A vision that is not focused on ourselves, but on others.  The traditional business taught us every man… or woman for themselves and that you never divulge hard earned trade secrets with anyone as this was a sure fire way to assist your competition in putting you out of business.
Lori and I understood that if we could develop a system to teach our friends and associates how to achieve their goals in a successful online marketing campaign then we could receive true and lasting success.  So whether you are here to improve your companies marketing strategy or develop exposure for the network marketing program you have chosen, we hope to be a viable resource for you as you begin the task.
Much Success!
John Ferguson
Online Success Coach
www.fergusonville.com